If you are a beginner in WordPress and want to create a menu as per your content then there is an option to create a menu dashboard => Appearance=> Menu and you can create from theme customizer. Without any deep knowledge of CSS and web programming, Menu Plugin used to create an attractive and responsive menu. Based on your web content and design you can choose a different plugin from the market. There are lots of plugins on the internet market.  Here are the top 6 menu plugin in codecanyon.
Top 1: UberMenu
UberMenu plugin is the top sell plugin in codecanyon. It is compatible with most of the web browsers li is user-friendly, customizable and fully responsive with mega or flyout submenu. This plugin has compatible with mobile devices including Android, iPad, and iPhone.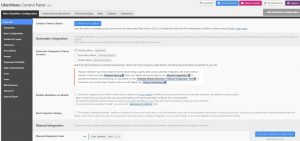 Ubermenu is easy to use and customize. After installation, you can find it's setting under Appearances. To use it you have to create a menu from the WordPress default menu editor. You can integration automatic or manual as per your need. It's shortcode can placement within the site.
Built-in responsive gride and can configure the individual column of the submenu. You can set the background image of each submenu. Dynamic Item can generate from posts, categories, terms, custom post types and taxonomies. It has advanced content like image, description, post grid, search bar, shortcodes, google maps, contact form, custom HTML, Tabbed content and many more effects and settings.
User opinion
Just a fantastic plugin- really flexible professional-quality menus that are super easy to customize yourself.
-Melwatson
Top 2: Mega Menu
Mega Menu is the second top seller plugin items in codecanyon. It compatible most of all browser and covers all types of websites menus designs. Sticky menu, menu icon, search, logo, dropdown and more features available.
In megamenu, the dropdown menu is easy to customize. You can place content like links, text, images, widgets, and shortcodes in dropdowns. It is easier to use color for any menu content. The background image can apply for menu content. More google font can use for the font of the menu. Many vector icon can be used. For additional customization, you can use CSS and JavaScript.
user opinion
Mega Main Menu runs perfectly in my WP page. Mema Main Menu is very intuitive, easy to configure and visually fantastic. And Mega's customer service is impressive. Total availability to help you and solve your problems.
100% satisfied
100% recommendable
– rodrigocy
Top 3: Superfly Menu
Superfly menu is in top 3 menu plugins. Most of the web browser compatible with it and responsive to desktop or mobile devices. This plugin has dynamic navigation, icon toolbar and is user-friendly for menu and submenu setting and different effect.

Various menu mode is another feature of the plugin. It doesn't store any kind of data from your site visitors. The rich text editor is available for edit custom content or shortcodes. You can also add images, chapter, separators, icons. Font, color, and background image are editable. It has a pre-installed icon library, social media bar, and button. You can use it as standalone navigation or compliment your main menu. It doesn't replace the existing theme menu and it supports up to 4 levels multi-level menu.
user opinion
Great plugin, does exactly what I wanted, with a cool design, and with great support as well if you want to customize it on your own. – lebye
Top 4: Hero Menu
Hero Menu is in no 4. It supports most of the browser. You can customize the menu for colors, fonts, animation, layout, looks and many customizations in a few easy steps. It is also responsive for PC, tablet, and mobile phone (Android, iOS, and Windows).

user opinion
I've tried a few mega menus' and this one was the easiest to set-up and implement for a site. Very happy with the end results, and I would certainly recommend this plugin for the following:
Ease of use,Good design,Flexibility & Customisation
Quality code
-mentaalist3d
Mega menu is available for your dynamic menu design. You can add your own shortcodes, HTML, add google map, contact form, and WooCommerce. The submenu has options of rounded or square with shadow and animation. More than 650 google fonts available. You can customize your own style using custom CSS. It is tested with popular WordPress themes.
Top 5: Mega Menu Pro
Mega Menu is in the top 5. It is also compatible with most of the web browser. It has additional features of Woocommerce and WPML. Verticle and the horizontal view can be used as per need. Built-in visual mega menu builder plugin is available for display menu as flyout or megamenu. The Plugins has 14 pre-designed skin and 10 horizontal and vertical menu templates.
It has 5 mega menu tab templates, 8 transition effects, 5 inbuilt menu icons, sticky menu options, and many more options and settings.  You can customize your menu through custom CSS code.
user opinion
Great Quality Plugin with a very diverse set of components and options and really well designed. The support is great, helped in some questions and answered very fast!
Great Work!
– Ohgugun
Top 6: WP Floating Menu Pro
WP Floating Menu Pro is in no 6. Its free version available in wordpress.org with limited features. It is compatible with most of the web browsers and responsive to desktop and mobile devices. Unlimited templets can be used. Different icon (Dash, Font Awesome, Gener) has available and you can upload your own custom image icon.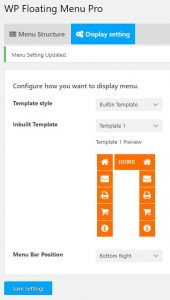 7 different menu position right(top, middle, bottom), left (top, middle, bottom) and bottom center and 13 different beautiful pre-designed templets are available. The plugin has the ability to add multiple menus in a single page at a time. There are editable custom template components where you can customize Icon, menu, title, tooltip, and others.
user opinion
Great looking menus, highly customizable, smooth animations. It takes some effort to go through all the options, but that pays off in a beautiful minimalistic floating menu.
-1000zen